Things that are good to know before ordering
General information on the buying process
We want to make sure you get the kitchen of your dreams
You have 2 options for a Reform quote;

The All Reform option
If you consider the all-Reform solution (where we supply everything except appliances), then you're most welcome to send your ground plan with all important information to this mail. We can either from that make a kitchen design proposal or we settle for an online meeting in which we discuss all your needs and wishes first, and then provide you with a plan.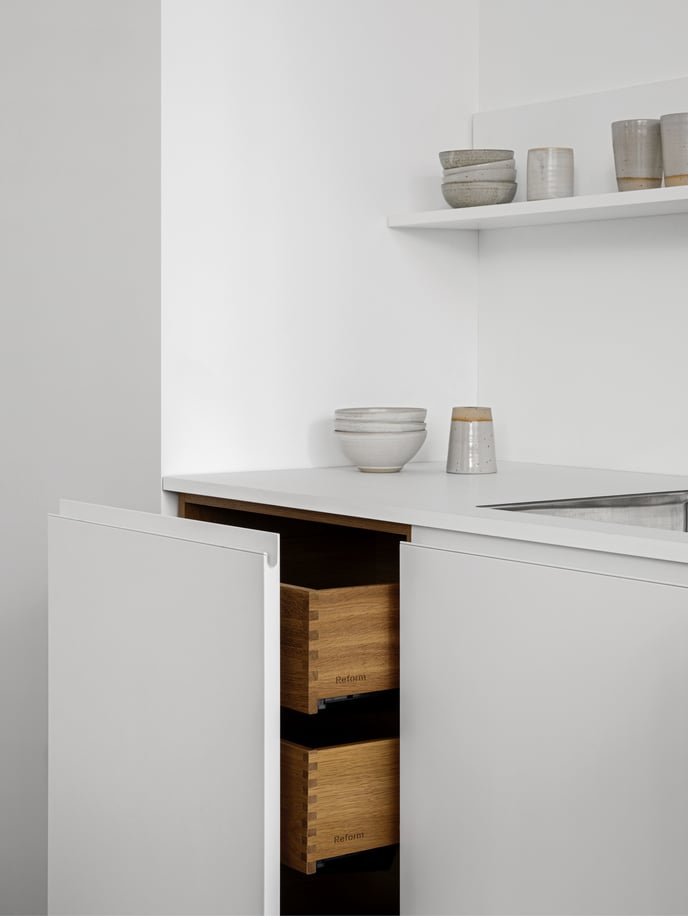 The IKEA/Reform option
Where you buy the cabinets and drawers, hinges, shelves, etc at IKEA and we supply the fronts, worktops to fit these cabinets
Please feel free to send us your IKEA kitchen plan along with your preferred Reform design, so we can make a quote for you that includes shipping and lead-time. Please remember to leave IKEA fronts on the drawing, so we can see the configuration of the fronts on each cabinet. If you choose this solution, you will need to purchase the IKEA items yourself in IKEA.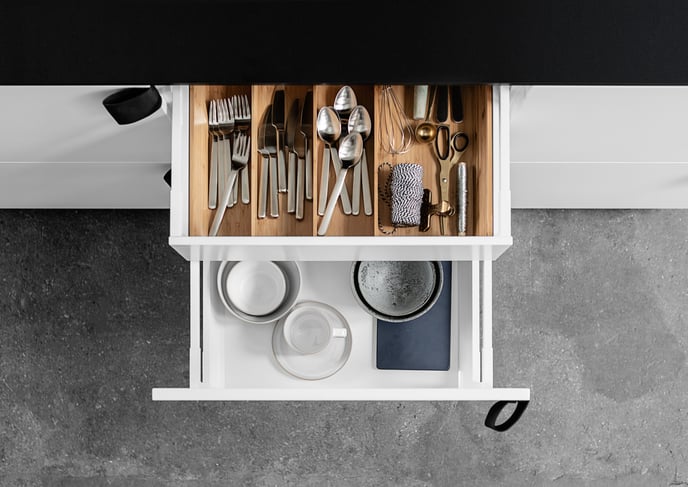 If you choose the IKEA/Reform solution
Our fronts, cover panels, plinths, and worktops were created to replace the corresponding IKEA products. This means that you need to buy only the following basic components at IKEA:
Cabinets
Hinges (Please note that you cannot use 125° hinges for our FRAME design, MATCH design, PROFILE design and UP design)
Legs
Drawers*
Wall mounting rails
Connecting rails for fronts
Appliances (if applicable)
Lighting products (if applicable)
*We also offer high-quality drawers in solid wood made to replace the MAXIMERA drawers. Just ask us about them and we will integrate them into our offer!
For our dark designs, we recommend buying IKEA's dark cabinets.
Placing the order
After all details have been discussed and you have agreed to our offer, you can order your Reform items. Each order will be reviewed internally by a colleague. After approval, we will send you an order confirmation and a payment order.
As soon as we have received payment of the full amount, we will send your order to production.
After a lead time of 6-15 weeks (depending on your design of choice), our freight company will deliver your order (to the curb) in a solid transportation box. Once you have opened the box with a Torx T20 screwdriver, you can conveniently carry the individual fronts into your apartment / house.
Our transportation boxes are made of high-quality birch plywood. Of course, you can dispose of the box afterwards – but that would actually be a pity. Some of our customers have used the plywood to build themselves outdoor benches or raised beds. If you have no use for the box, you may want to consider giving it to someone who has use for the material.
All packages that exceed a maximum width of 80 cm and a maximum length of 240 cm do not fit into the wooden box and will be packed separately.
If you know at the time of ordering that you won't be home during the specified delivery date, please let us know as this will enable us to schedule production accordingly. If you can't take delivery of items that have already been produced (e.g., due to an unexpected delay in renovation works), our freight company will provide storage of your order against payment of a fee.
We order some worktop materials from our supplier in Denmark. These items will be delivered to your home separately from the fronts.
For orders delivered in Denmark, we can also supply appliances from Miele and faucets from Vola
For any other markets, products such as appliances and faucets need to be ordered separately from Reform.
Services
In our core markets (in the proximity of the Reform offices and showrooms), we will have recommendations for kitchen installers.
If you live outside our core markets, please book an installer of your choice. There are numerous service providers specialising in the installation of kitchens. For some metropolitan areas, we can provide you with the contact data of kitchen fitters recommended by our customers.
Just contact us and we will help you as best we can!
What you need to know about the dimensions
You can order Reform cabinets and fronts corresponding to the dimensions available for IKEA kitchen cabinets. So, for pricing purposes it is very simple to change from one system to another.
Moreover, we offer some products in non-standard sizes (such as panels fully covering the sides of kitchen islands) as well as customer-defined sizes. For all custom-sized items, we need exact dimensions specifying what you want us to produce for you.
All fronts come pre-drilled. In custom-sized fronts, however, all drilling needs to be done by your kitchen fitter during installation.
Besides, fronts for which our pullout manufacturers/IKEA/appliances manufacturer provide a drilling template do not come pre-drilled – which applies to the following:
Fronts for dishwashers
Horizontal doors for wall cabinets
Fronts for under-counter refrigerators
Pull-out fronts with a size of 20 x 80 cm or 30 x 80 cm
We will place handles on the sketches, remember to let us know if you prefer any of the handles placed differently, so we can change it before placing the order.
Inserts and plinths are available in standard widths and must be cut into right size by your kitchen fitter upon installation.
There are numerous ways of covering kitchen cabinets. When calculating the dimensions of side panels, we typically adhere to the concept of the respective designer (e.g., side panels for base cabinets might go all the way down to the floor or end at the bottom edge of the cabinet). Let us know what type of design you want for your kitchen and we will be happy to discuss all available options with you.
We are continuously improving and updating our designs and making changes to better suit our clients' need. So if you are placing an additional order to an existing order, please make sure to reference to this so we can ensure all is manufactured in the same way.
What you need to know about our worktops
We strongly recommend to initially mount your kitchen with a make-shift worktop and to have the exact worktop measurements taken after all cabinets have been installed. This way, you can be 100% sure that your worktops will fit perfectly.
We offer a wide variety of materials that have their own specific benefits and drawbacks and suit different budgets. Just contact us and we will provide you with comprehensive advice.
We will calculate your worktop based on your plans, cabinet layout and Reform panel thicknesses. As the edges of worktops always align with the fronts and cover panels in our kitchen designs, please let us know if you want your worktop to overhang!
When calculating dimensions, we always add 1 mm to the actual size of cabinets as both cabinets and worktops have production tolerances. This excess length allows us to prevent your worktop from being a few millimeters too short in the end. If you choose our push-to-open fronts, we will add 3 mm to the depth of your worktop as the push mechanism causes a minor gap between the fronts and the cabinets.
Cut-outs for the installation of sinks and hobs will typically be made on site by the kitchen fitter. For hard materials (such as Corian or stainless steel), we need you to send us the installation drawings provided by the sink or hob manufacturer in advance so that the cut-outs can be made during worktop production. We also offer a wide variety of sinks designed for top- or under mount installation during production.
Our offer comprises different types of worktops in solid wood. All wooden worktops are made of rods (each with a size of 42 x 360 mm) that are glued together.
As a general rule, natural stone and ceramic worktops are produced only according to measurements taken by one of our partner companies. The measuring technician will decide on site if the worktop can be produced from one piece. If seams are necessary, he will decide upon the position of the dividing line. Moreover, the worktop's actual price might differ from the initial quote in case the final dimensions deviate from the ones considered in the offer.
Most natural stone materials are vulnerable to acids, meaning that liquids such as vinegar, mineral water, fruit acid, wine, champagne, or acidic cleaning products will cause stains and should ideally be avoided.
(we cannot supply stone worktops for all our markets, ask your sales rep for specific information)
Please make sure to immediately examine your worktops for defects! Production and shipping damage claims must be made within 7 days of receipt and before installation of the worktop.
The small print
We cannot guarantee that items produced according to measurements provided by you will fit 100%. We therefore recommend professional measuring before ordering your kitchen.
Unless worktop measurements were taken after the installation of the kitchen cabinets, we cannot guarantee that your worktop will fit perfectly.
We do not assume liability for installation faults caused by a kitchen fitter commissioned by you.
We cannot not assume liability for any planning errors caused by you, IKEA or any other third party. We recommend to make use of a measurement service and to ensure their consultants double-check your kitchen plan.
We cannot guarantee that appliances purchased from third-party providers can be integrated into your kitchen. Please consult your household appliances retailer!
Please be aware that a paint job in a special NCS color will not necessarily be identical with the color of another material. Other materials have different surface characteristics which may lead to colors appearing differently. A perfect color equivalency can therefore not be guaranteed.
Please check all items upon receipt and make sure to notify us of any damages or faults before installing them.
We exercise great care when submitting a quote. At the same time, mistakes may occur. That's why it is important that you carefully review our quote. In case something seems implausible or you don't understand something, please contact us immediately! This way, we can ensure that you get what you want; your dream kitchen