Many might consider wooden worktops as a traditional choice for a kitchen worktop and we agree that it's definitely a classic choice. We believe that the oak is a timeless, warm material, and therefore offers wooden worktops in solid natural oak or solid smoked oak.
Wooden worktops are purely a natural material so variations in color and structure may occur. Differences in the form of knots and in the grain are not considered an error only a characteristic of this well-known natural material.
Solid wood does require ongoing maintenance, it is actually easier than what you may think - When done correct and consistently.
Our Solid oak worktops are made with short rods glued together, as shown below, available thickness is 20 mm. The width of the individual rods is 42 mm

Variants
Natural oak
The natural oak top is treated with a clear worktop oil.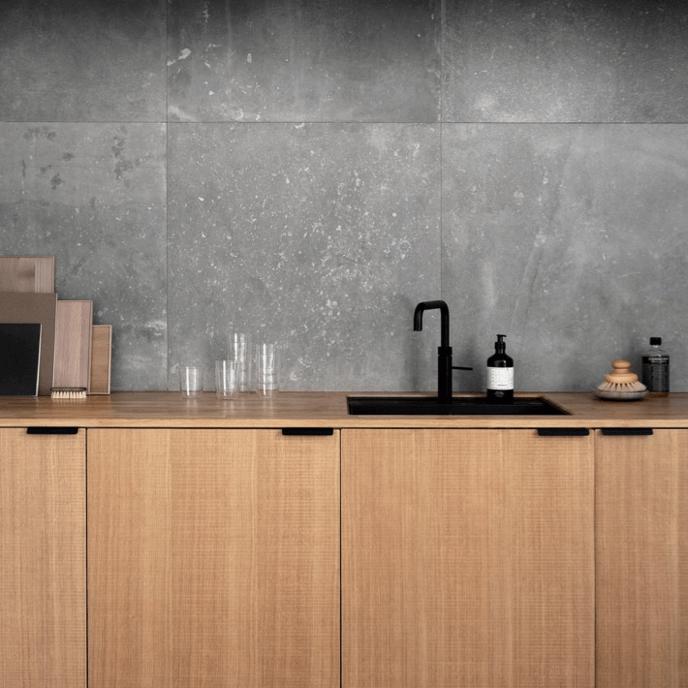 Smoked Oak
The smoked oak top has been ammonia fumed to turn the deep chocolate brown colour.
It consists of exposing the wood to fumes from a strong aqueous solution of ammonium hydroxide which reacts with the tannins in the wood.
The smoked oak tops are treated with black oil, giving it an even richer darker colour.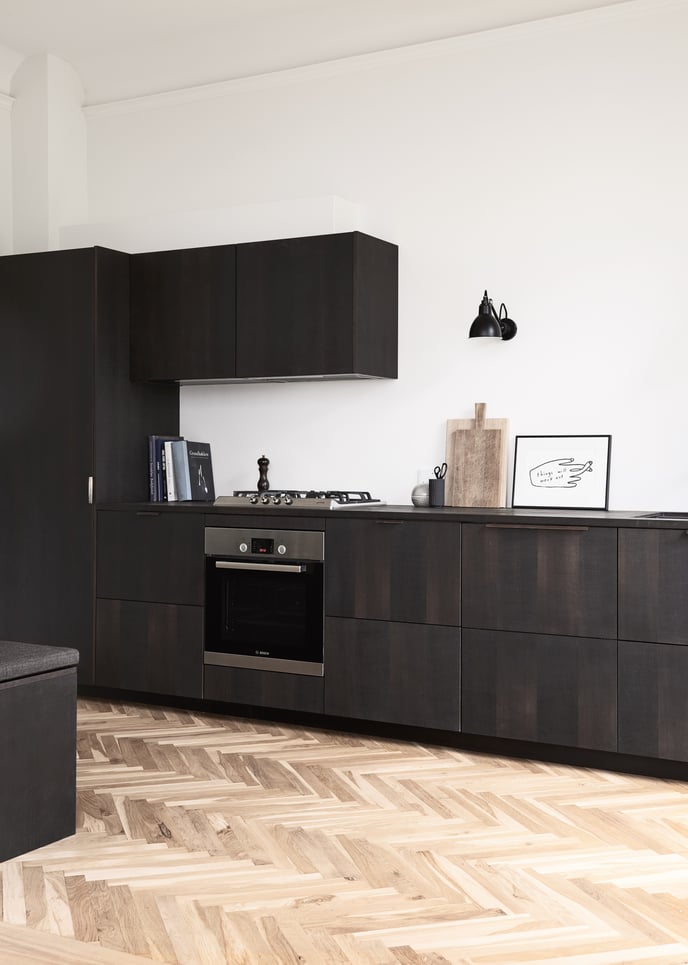 Regular Cleaning
Kitchen elements such as a coffee machine or toaster may expose the worktop to heat which could cause cracking or discolouration.
To clean a wooden worktop only plain warm water with a damp cloth should be used. Avoid using detergent, as it can dry out the wood, which will require the wood to be treated more frequently with oil. There is a natural content of acid in oak, which has anti-bacterial properties and makes wooden worktop a good and hygienic choice, especially good for baking.
Occasional Treatment
The solid wooden worktop is best treated with oil, and during production it is treated with oil prior to delivery.
It is recommended to maintain the countertop with oil, within the following interval:
Start the maintenance process immediately after installation. Repeat 2 times more with a 3 day interval.
Continue the maintenance process once a month, the first 6 months.
The continuous frequency of the maintenance process depends on the usage, but it is recommend to give the total surface oil 4 times a year.
How to apply oil treatment on the worktop:
Before applying the maintenance oil, the wood should be gently polished with sandpaper (grain 220). Note: It is important to polish along the oars of the wood.
Clean the countertop with a damp cloth to remove all polish dust. Note: Do not use detergents/sulfo products.
When the surface is completely dry, a thin layer of worktop oil is applied with a sponge or lint free cloth. Note: It is important that the surface is completely dry and to make syre the entire countertop is covered.
Wipe away excess oil immediately with a clean, lint-free cloth. Note: The oil dries within 5 minutes, and any excess oil must be removed before this, to avoid a greasy surface.
It is recommended to wait approx. 12 hours before using the worktop, as this will enable the wood to absorb the oil.
If the wood has become very dry since the last maintenance process, you may repeat the above process after 3 days.