An all natural and beautiful tactile surface
In our Basis design, you can choose fronts with a linoleum surface and there are 20 different colors to choose from.
All colours from Forbo's Furniture linoleum series, except Pearl. Forbo Furniture Linoleum
Linoleum is glued on a MDF board, where edges are made from solid oak (natural oak or smoked oak) and the backside and the handle is made from veneer (natural or smoked oak). It's the same with cover panels for a kitchen in linoleum, which means that all edges on a cover panel will be with a solid oak edge. It applies more detail to the overall expression in the kitchen, a kitchen that shows off more natural materials.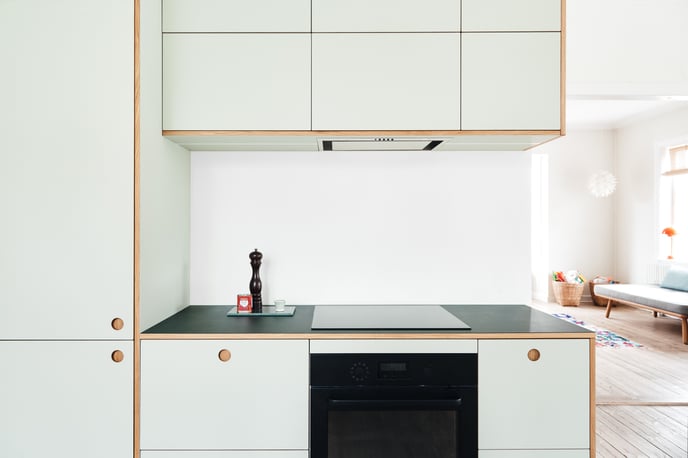 Linoleum is a product we are happy to recommend, as it is a natural material with a lot of advantages and unique features. In particular it is the durability and the organic, matte surface that makes this material unique.
Because linoleum is a natural material, slight variations may occur on some of the lighter colors we offer, including the colors: Mushroom, Vapour, Ash and Pebble.
Within a tolerance range, be aware that there may be a slight color differences from one piece of linoleum to another.
Though these color fluctuations do not always occur, it's not possible for us to guarantee that the color of your linoleum will be identical to the sample or the model in the showroom.
In some cases it is possible to treat the surface with a linoleum-care product, which may help to compensate for the variation in shading. In addition, since linoleum is a natural product, its color may change slightly as it ages in its actual environment.
Therefore, old and new linoleum products can't be compared, so please keep in mind when re-ordering that linoleum is made from natural, renewable materials, so there may be slight colour deviations in different batches.
To ensure your linoleum fronts stay durable and pretty over time, it's important that the fronts are continuously maintained with correct cleaning product and in some cases protective care products.
Below, some advice on how to best maintain linoleum.
Regular cleaning
Clean with a damp cloth, optional a pH-neutral detergent can be used.
• Remove stains immediately after spillage.
Occasional deep cleaning
Apply a 5 % solution of a pH-neutral detergent in water.
• Allow soaking for 10 minutes.
• Scrub the surface gently with a soft scrub brush.
• Pick up dirty water.
• Rinse with clean water and allow surface to dry.
• Apply a thin maintenance film of undiluted Forbo Monel.
• Buff vigorously with a clean (new) cotton pad/rag.
Preventive measures and stain removal
Sharp items may cause scratches, use soft protection in case of doubt
• Remove stains immediately after spillage (such as ink, coffee, tea, red wine)
• Prevent stubborn stains from forming; use coasters under flowerpots, vases, cups etc
• for stubborn stains such as ink and pencil, use a clean cloth and neutral cleaner
Please note that linoleum is an organic material. Therefore, we do not recommend the use of linoleum in areas with high impact of water and strong chemical substances - Including alkaline cleaning products that may degrade linoleum
Good advice: always use pH neutral detergent, best with soap flakes as an alternative to linoleum care. For more info about the maintenance of linoleum, visit Forbo, the company behind the linoleum we use.
When treating fronts in linoleum, treatment should be done on both sides, which means that the veneer on the back should receive treatment a few times a year with a bees wax by the brand Guardian