Unfortunately, we are not able to supply this material in all markets, make sure to ask your sales consultant for the availability in your area.
Granite is a coarse-grained, light-colored igneous rock composed mainly of feldspars and quartz with minor amounts of mica and amphibole minerals.
In a kitchen, granite is a very hard substance and is not susceptible to scratches. While not ideal to work on because it will dull knife blades, it will take normal wear and tear very well. Granite resists heat too, the resin fillers and surface coating mey, however, be affected by heat. Therefore we always recommend using trivets by the cooktop.
The specific type of Granite Reform uses, Baltic Brown, is a vibrant and oaky granite from Finland. A blend of browns and black with small flecks of lighter gray and tans.
During the polishing process a clear epoxy resin filler is used to fill any micro fissures or tiny pitting however this does not affect the integrity of the stone, it merely provides an even smoother surface finish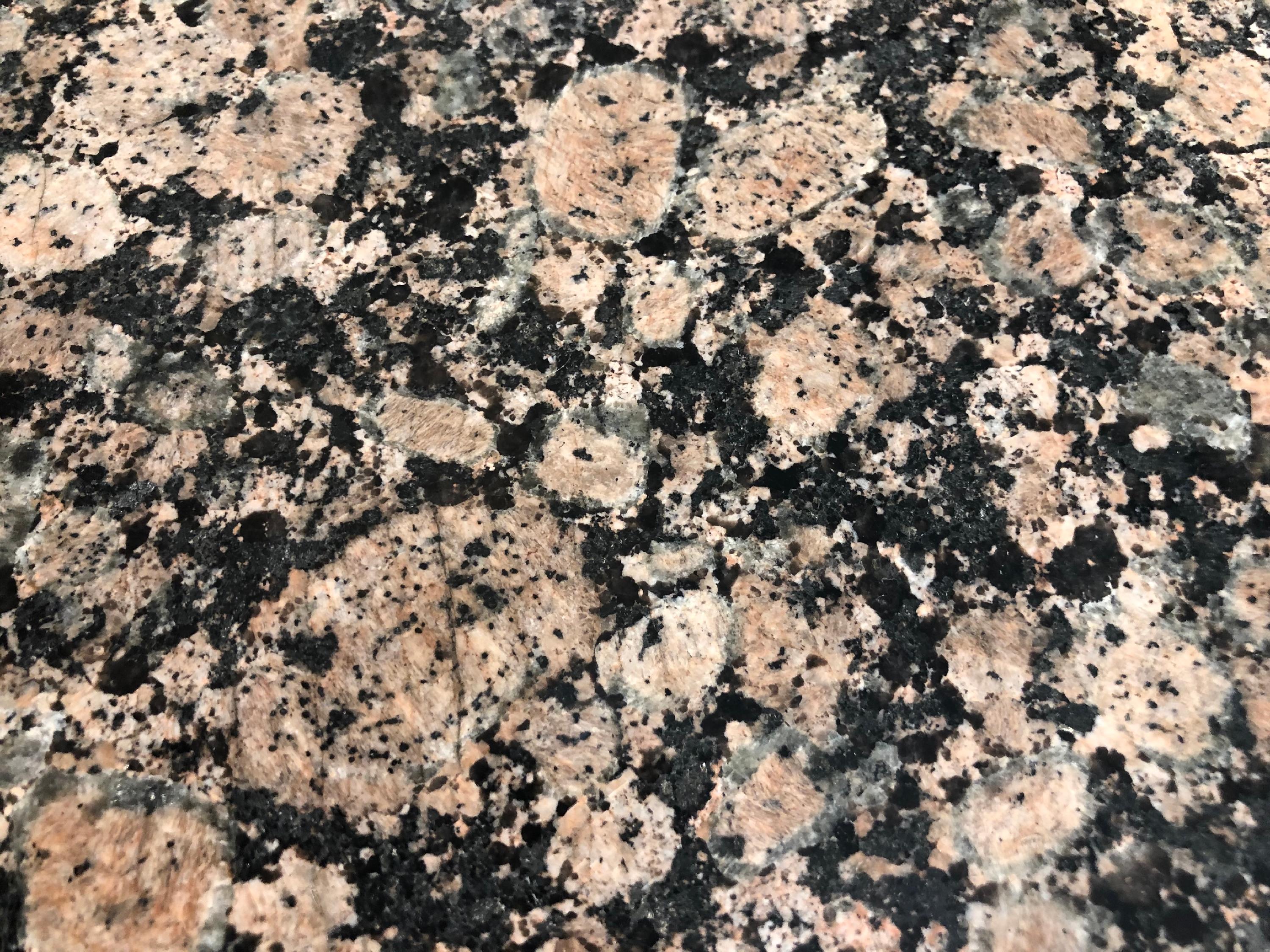 Maintenance
Keep Granite Sealed
A key step in maintaining the granite worktops is to keep them sealed. Granite is a porous material which means it soaks up liquids more than other worktop materials such as quartz. Depending on our local supplier, the seal needs to be re-applied every 1-3 years. Check with your sales consultant which seal is used and how often it should be re-applied
Everyday Cleaning
Cleaning your surface with warm water and a microfibre cloth will do the job of helping to keep a Granite worktop sparkling on a day to day basis. Simply wipe the surface with a damp microfiber cloth everyday to reduce the smears that appear easily. If there are marks on the worktop, use a PH neutral washing up liquid or cleaning solution with some warm water, wipe with a damp microfibre cloth and buff up with another. Buffing the granite surface after cleaning will keep the surface looking shiny by eliminating water spots and streaks.
Deep Cleaning
We recommend that on a weekly basis, the granite worktop is given a deeper clean to keep it in the best possible condition. If buying products off the shelf we would suggest to purchase a PH neutral cleaner for the worktops. Products that are PH neutral tend to be kinder to the granite, whilst lifting all marks and stains.
Long Term protection
Granite worktops are guaranteed to last a lifetime but you still need to make sure that your worktops they are looked after. Although the surface can withstand hot pans and chopping food without a board, it doesn't necessarily mean you should. Hot pans will not damage the surface, however extreme and constant temperatures may harm the stone, therefore you should avoid leaving hot pans on the countertop for long periods of time, especially during winter.
Resting ceramic objects on your countertop can slightly scratch your granite. We always suggest using mats underneath these objects to avoid any marks.
Neglected Granite
When granite has been neglected, use a heavy-duty granite approved degreaser to effectively remove any dirt, grease and grime that has built up over time. These types of products tend to be concentrated and are designed to deep clean without damaging the stone. Make sure you follow the manufacturers instructions carefully to ensure you don't damage your countertop.
Sinks
Our local supplier will have a selection of sinks for the granite tops. The sinks are usually under mounted.