Our steel drawers come in a light and elegant design featuring laminated chipboard. They perform well even when they're fully extended and loaded with heavy items. This means that wide and heavy pull-outs will run smoothly thanks to the design's excellent carrying capacity.
The drawer selection are made to fit the Reform white and black cabinets. The slim drawer sides have a thickness of only 12,8 mm while the bottom and back panels made of Melamine Faced Chipboard, 16 mm thickness, same for front panel for Inner drawers
The drawer runners are from Blum's Movento series, a high quality product made to last and with a weight capacity 40 kg
The runners come with soft close function and a Blumotion push-to-open solution can be added to the runners for our designs without handles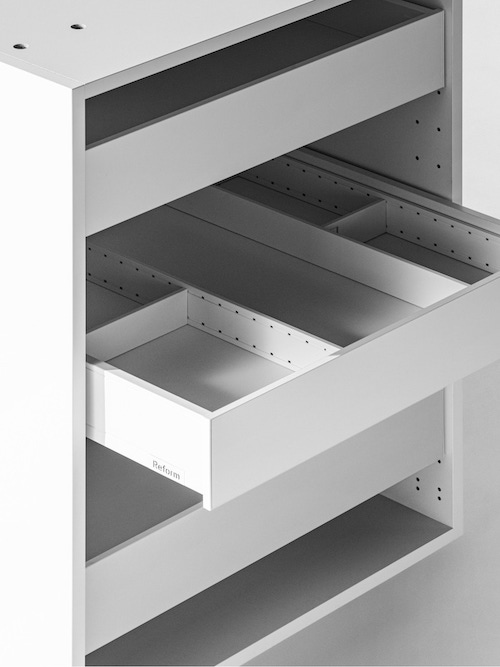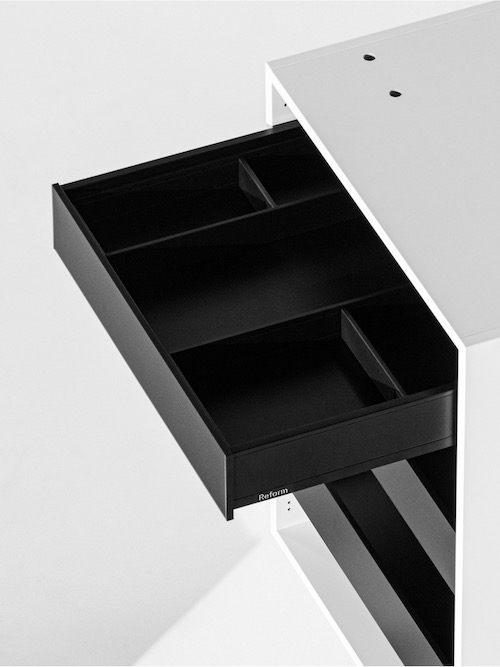 Dividers and accessories
Our Steel drawers can be complimented with a wide range of dividers and accessories.
See the price list here
Maintenance
- Use a soft, lint-free cloth, a chamois leather or a sponge
- Ensure that the cloth you use to wipe the furniture with is just damp, not wet
- Always wipe the furniture again afterwards with a dry cloth
- Wipe off dirt as soon as it appears
Avoid
- using steam cleaners
- using cleaning products, such as abrasive cleaning powder, steel wool and scourers, as well as cleaning agents, such as acetone, chlorine, cellulose thinner and solutions whose names start with tri or tetra
- storing open cleaning products, baking powder, dishwasher products or table salt, for example. Fumes can cause corrosion on all metal surfaces.